Star, Story, Solution Script – The Formula To Selling Almost Anything
The Star, Story, Solution Script was originally created by Vince James, a legend in the direct response marketing world and later adapted by Russell Brunson's in his book Dot Com Secrets.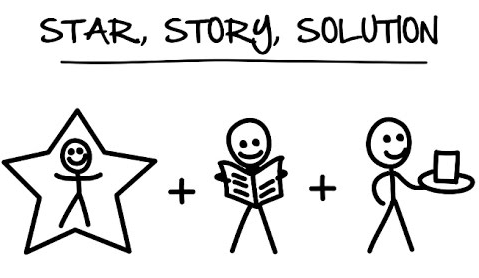 The Star, Story, Solution Script is one of the best ways to craft a sales letter or a script for your video sales letter.
I put this together to as a workbook to help me write out my sales letters one block at a time.
This script is best understood with the Dot Com Secrets book at your side.
Below each building block, I have added questions and prompts to help you complete each area with the goal of collecting all of your responses in a document for editing.
HOW TO USE THIS SCRIPT
The purpose of this script is to guide you through the building blocks of a sales letter or video sales letter. 
The first step is to brainstorm ideas and write down a statement for each building block.
The second step is to then copy and paste each building block statement to Your Draft Sales Letter for editing and refinement.
Step1 ) Brainstorm Building Blocks
1) Pattern Interrupt Headline - WAIT! WHAT?
You need to grab their attention with a pattern interrupt. (See 50+Pattern Interrupt/Headline templates document to help you create headlines that captures your dream customers attention.)
2) Core Desire Question 
What is your Dream Customers core desire? What is the outcome they want to achieve?
3) Agitate past failures: 
" I bet you've tried to figure this out and just can't get it...." "When will it work for me?"
4) The One Big Promise
"When you watch this video to the end you will discover…[THE ONE THING TO ACHIEVE YOUR CORE DESIRE]."
5) Introduce the Star of the story
Tell your Attractive Character back story: "Hey my name is [ ______ ] I was just like you...."
6) The High Drama Moment
What was the turning point of frustration? "I had tried it all and was almost done trying…" "got frustrated and…"
7) Backstory Wall
The Back story of what lead to the drama. The point you felt completely stuck.
8 ) Identify the problem
The reason you were stuck and why they are stuck. "The problem that I had…"
9) The Epiphany Moment
The moment you decided to make a major change(behavior or mindset).
 "And that's when I decided…" And that's when I had an AH HA moment..."
10) Your path to finding the solution 
What did you try along your journey to success? "1st I tried this... then this... and then finally This..."
11) First signs of success
And that's when I finally tried______ and you know what? This time it worked…"
12) The Conspiracy
The cards feel stacked against them. "I realized it was not my fault… no wonder I was struggling…"
13) The Big Lie
Why they've not been successful up till now and it's not their fault.
"I was doing ____ and when I figured out it was wrong, I changed my ways…"
14) A Common Enemy
The real problem is________. They were the ones keeping me from ________.
15) Rapid Growth
"Once I realized____________ we started to grow fast..."
16) Case studies of customers
"Take a look what these customers did…"
17) Hidden Benefits
What unexpected benefits did you experience with product / journey?
"I didn't realize when I started that I would get ________, _______ & _______."
18) Formal introduction of solution
"And that's why I created __________."
19) Pain and cost to create solution
"It took me X months to create and cost $$$$ to develop… but it was totally worth it."
20) Ease when using 
It makes ___________ so much easier…"
21) Social proof... name drop, testimonials
"Don't just take my word for it…"
22) Make the Offer
Explain what the buyers get. Use the offer creation worksheet to create your offer.
"Let me ask you a question...Would you like to get access to _________? For less than the price of ________…"
23) Build value on your offer
What bonuses & additional features and tools can you add to your offer?
24) Price Anchor
Tell them all of the value you are giving them. "The total value of all of this is $2000 and for today only you get it all for $47...
25) Give a guarantee
"30 day money back guarantee if you are not satisfied…"
26) Inject scarcity
"Buy today and get…" "Buy in next 30 minutes before it closes…"
27) Future pacing
"Imagine when…"
28) Call to action
Tell them what they need to do to purchase.
"Click the button below, you will be taken to a checkout page, then you will create an account to access the course…"
29) Take away selling(warning)
"This offer will only last 90 minutes…"
30) Close with reminder
"Remember you get.... now click the add to car button and let's get started…"
STEP 2 ) Assemble Sales Letter from Building Blocks
Copy and paste your final responses from each of the building blocks above to create your draft sales letter. 
When you get them all assembled in a document, spend time reading through it, editing it and then read it out loud. 
Want to learn more?
Get a copy of Dot Com Secrets.
Want more? Here are My Latest Growth Guides 
Follow me on social